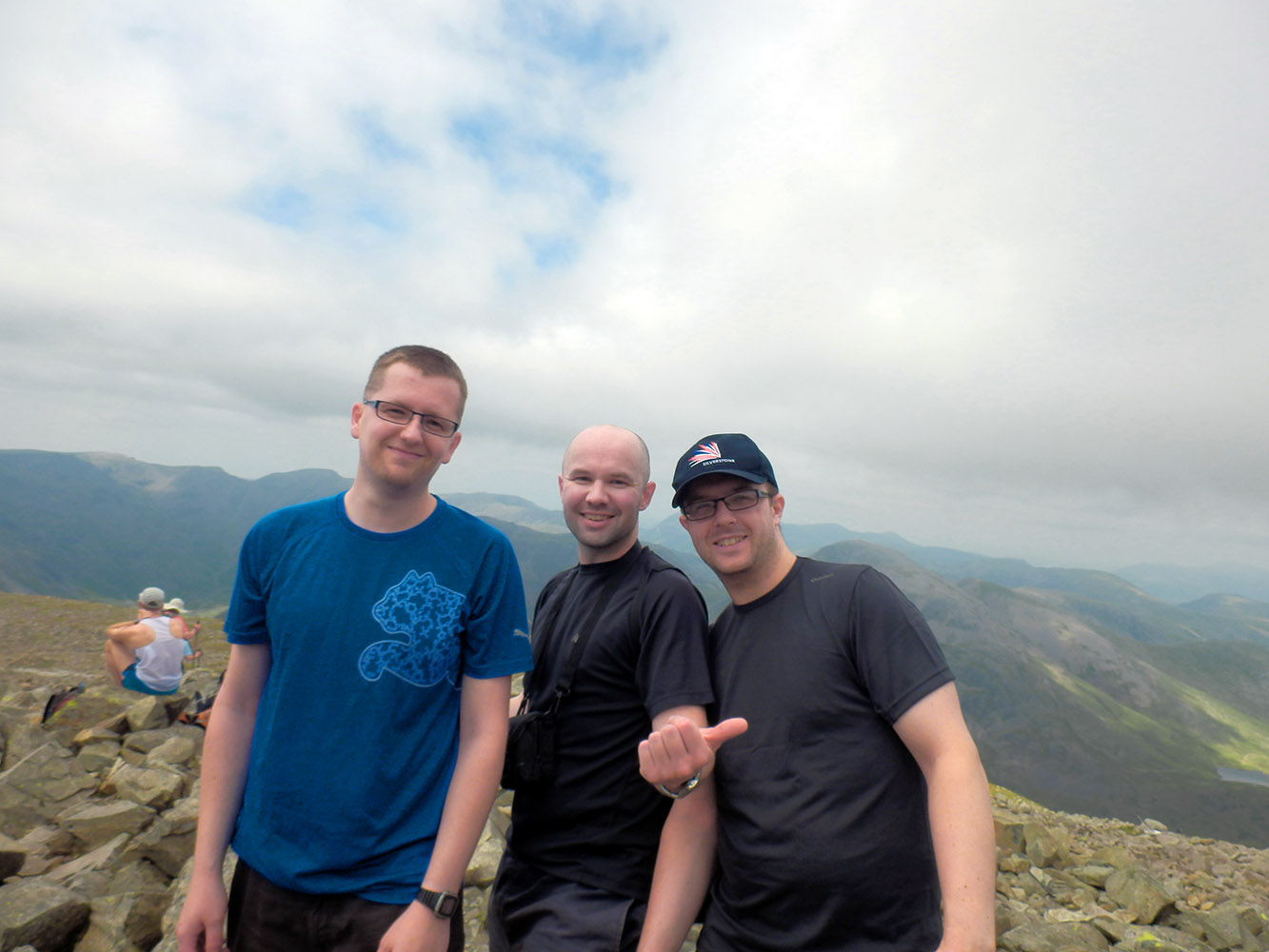 The World's Slowest Three Peak Challenge
As a rule, for it to strictly count, the National Three Peaks Challenge should be completed in less than 24 hours.
We were a little slower; it's taken us three years – but nevertheless we've done it.
Last Saturday my alarm woke me at 5.30 a.m. As the years progress I'm becoming less and less a 'morning person', but on this occasion I wasn't the least bit groggy – I was excited because it was to be the day we would finally complete our mission to climb the tallest mountains in Scotland, Wales and England. We summited Scotland's Ben Nevis in September 2011, Wales's Snowdon in July 2012, and we were hours away from completing the trio with Scafell Pike, hidden in the midst of England's Lake District. Come September I'm due to climb Ben Nevis again, this time with my brother in tow. I found it hard the first time, as we had horrendously over-packed our rucksacks and thus were burdened by excessive weight. I got no photographs from the summit either, as thick fog restricted visibility to a handful of yards, and it was raining sideways. The whole 'climbing Ben Nevis' thing had been a random idea I had proposed for Danno's stag weekend, and surprisingly Dean had been thoroughly behind it. Our climbing of the other two tallest peaks had seemed the natural order of things; an unspoken promise to each other that we would complete the trio together.
At 6.00 a.m. Dean arrived. I was shocked; he's never on time for anything, plus he'd already collected Danno. My scant gear was quickly loaded into his Ford S-Max, I popped a pair of contact lenses into my hay-fever-stricken peepers, and at 6.10 a.m. we set off. With a playlist of Beastie Boys thumping out of the refreshingly high-quality speakers we chatted animatedly for an hour, and then Danno succumbed to the vibrations of the road and fell asleep. We stopped once, to consume a late breakfast of sausage and egg sandwiches from a roadside snack wagon we fortunately happened across, nestled in the shade of trees by a winding Cumbrian road.
At the campsite we pitched our tents, donned our hiking boots, lathered ourselves in suntan cream, and at 12.20 p.m. began the climb. The start was tricky; at just under 30 degrees centigrade it was a hot day, and we were thankful the sky was a little overcast, the extra shielding providing much needed respite. The higher we got the less encased by neighbouring peaks we were, allowing a cooling breeze to drift through the passes and take the edge off the heat.
It was by no means a quick climb; 2 hours and 45 minutes, but suddenly it was done – we were at the summit. We commenced upon forty-five minutes of photography, rehydration and food consumption, and then headed back the way we came. Back at camp we showered and put on fresh clothes, then headed to a village pub two minutes from the campsite. With our bellies filled we returned to camp, and chatted for a while whilst sat in the lee of our tents, but exhaustion prevailed and we chose to retire. By 10.30 p.m. we were trussed up in sleeping bags, a long day done, a promise kept, a quest completed.