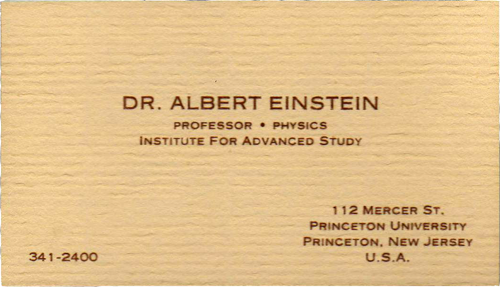 Albert Einstein's Business Card
During a recent web surfing excursion I came across, quite at random, an article showcasing the business cards of certain famous individuals. Whilst some were bright and brash, others were more minimal and sedate, but one in particular caught my eye.
Albert Einstein's business card is just, well, normal. Nothing superfluous, nothing celebratory, just a calm and self-assured statement. I appreciate that in his time this was par for the course, back when ridiculous work stationery and apparel had yet to become the established standard of marketing hyperbole. It is refreshing to know that there was once a time before daft, overblown designs were the norm.
When it comes to design I think that this is the perfect definition of the word timeless.